Partner with the Federal Fellows Program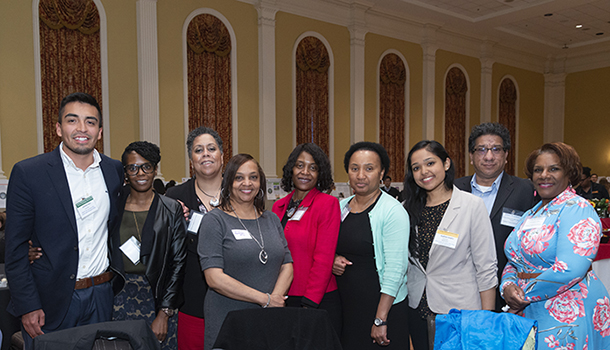 Federal Fellows is actively developing both formal and informal relationships and agreements with government offices, private companies, nongovernmental organizations, and other related agencies.
If you are interested in initiating an ongoing relationship with the program, please contact the Program Director, Dr. Joan Burton at jburton1@umd.edu or (301) 314-1920.
How to Recruit Our Students
Interested in recruiting bright, committed students as interns or volunteers for your organization?
Program Overview
Mission: To prepare talented, diverse undergraduate students to excel in professional internships and pursue careers of influence and impact, especially in the public sector.
Student availability: Our students are available to engage in internships of 10 to 20 hours per week from late-January through mid-May (the university's spring semester).
Students receive college credit for their internships through a university-administered internship experiential course.
The program provides students with funding to assist with their transportation costs.
How to Recruit an Intern
The most effective recruitment period is mid-September through late October; students generally prefer to secure their spring internships early to mid-fall semester. We also circulate positions later in the fall semester.
How to advertise an opportunity: You may send your own position description as an attachment; fill out our position form instead; OR send just an informal position description in an email text to federalfellows@umd.edu. In all cases, please use as your subject line: [name of your organization/office]) Position Description.  
Please specify whether you prefer for students to apply directly to you or you wish us to compile resumes on your behalf.   
For more information, please contact Program Manager, Naz Beyranvand, at nbeyran@umd.edu or (301) 314-0261. You are also welcome to contact the Director of the Federal Fellows Program, Dr. Joan Burton, at jburton1@umd.edu or (301) 314-1920.
Additional Information
The University of Maryland's Federal Fellows attracts applications from high-achieving undergraduate students from all the colleges (the minimum GPA is 3.0).
Our students major in a multitude of disciplines. In our program, they enroll in theme-based concentrations such as homeland security; energy and environment; foreign policy; science and technology; global challenges; and public health.
The program combines a fall seminar course taught by industry experts with professional development workshops, one-on-one resume and interview reviews, and federally-related events throughout the year to enable students to excel in their spring internships and pursue careers and activities related to public service.
Students may complete a spring internship at a federal agency, congressional office, or related organization, including NGOs, non-profits, think tanks, and private industry.